PGA Pro – Vacancy
Full Job Description
On the shores of the world-famous Menai Straits, nestled below the beautifully rugged Eryri National Park and overlooked by Mount Snowdon sits our Championship course – Caernarfon Golf Club.
The stunning views offered at Caernarfon Golf Club are simply breath taking all year round. It's quite easy to lose focus on your golf game on occasion!
Established in 1909 as a popular 9-hole course and was re-designed in 1981 to offer a 18 hole, stern yet fair test of golf. The club is renowned for its warm Welsh welcome and is consistently striving to develop its facilities. Caernarfon golf club facilities include a covered four-bay driving range, full short game practice facilities, PGA professional services, outstanding quality food and a very welcoming 19th hole!
The Club has a thriving membership which is growing steadily across all sections. We pride ourselves on offering a warm welcome across all our facilities.
The Weekly Saturday Medal attracts between 100/150 golfers in addition to the Pro's Comp on a Sunday and Juniors session, Ladies Comp on Tuesdays. A Thursday Comp and a Wednesday Evening Comp during the Summer months.
The Pro's Shop is the first point of contact for all golfers at Caernarfon, and the PGA Professional and General Office staff are responsible for providing a friendly and professional service to all golfers. The PGA Professional will be responsible for the management of all the professional golf services, including:
Providing a well-stocked shop, offering members, guests and visitors top of the range golfing equipment and apparel
Lessons and coaching, both individual and group sessions, including juniors and New2Golf
Assist the club with the running/administration of competitions
Custom club fitting, re-gripping and club repairs
Meeting and greeting golfers
Buggy, trolley and rental club management
Member communications
We are looking for a candidate who:
Is a fully qualified PGA Professional with a current accreditation
Has a reputation of excellence in coaching
Can act as an ambassador for the Club
Plays golf to a high standard
Offers the highest level of customer service
In addition to the above, the candidate should have:
All relevant professional and technical qualifications
Experience of working at a private members' golf club
A passion for the game of golf with a positive and enthusiastic attitude to work
Good communication skills and customer focus
A keen eye for detail and high level of presentation skills
The PGA Professional will be self-employed and the role will attract a package which is commensurate with the position.
To apply, please send a covering letter and CV, by email to the General Manager manager@caernarfongolfclub.co.uk. The closing date for applications is 1st January 2024
Canlyniadau Starwberry Rumble y Merched
Gweler isod canlyniadau cystadleuaeth Strawberry Rumble y merched. Please see attached the results for the womens Strawberry Rumble.
Canlyniadau Spring Frolic Merched / Ladies Spring Frolic Result
Canlyniadau Spring Frolic y Merched o 28/4/23. Da iawn i pawb a chwaraeodd.Ladies Spring Frolic Result from the 28/4/23. Well done to all who played.
Pencampwriaeth PGA Cymru/Welsh PGA Championship 2022 – Jonathan Kelly

Llongyfarchiadau enfawr i'r Pro Jonathan Kelly am orffen yn y 20 uchaf yn y Pencampwriaeth PGA Cymru a gynhaliwyd yn Machynys yr wythnos hyn. Roedd Jon yn amddiffyn ei deitl fel 'Welsh Senior Champion' eleni ag mae Jon wedi gneud pawb yn y clwb yn falch iawn eto yn 2022. Gyda sgor o +10 ar y diwrnod cyntaf, daeth yn ol yr ail ddiwrnod a hitio sgor ardderchog o -2.
Big congratulations to our Pro Jonathan Kelly for finishing in the top 20 in the Welsh National PGA Championships held at Machynys this week. Jon was defending his Welsh Senior Champion title and gave a very good account of himself again this year! With a score of +10 on Day 1, Jon responded with an excellent round of -2 on day two. Well Done Jonathan, all of the club are very proud!

Sgors llawn/Leaderboard

Asbri Welsh National PGA Championship – Individual Strokeplay Leaderboard | The PGA (bluegolf.com)

02/09/2022
Dros y penwythnos roedd cystadleuaeth agored ymlaen yn y clwb wedi ei noddi gan Club Choice Ireland. Mewn timau o bedwar, roedd dau sgôr yn cyfri ar y chwech twll cyntaf, yna tri sgôr ar y chwech nesaf a sgoriau pawb ar y chwech twll olaf……fformat anodd dros ben! Efo preis gwerth chweil i'r enillwyr fe gystadlodd 25 tîm ar y diwrnod a hoffwn roi diolch mawr i Club Choice Ireland am noddi'r diwrnod.

Over the weekend an open competition was held at the club sponsored by Club Choice Ireland . In teams of four, the two best scores counted on the first six holes, best three on the next six and all four for the final six holes …….a very tough format!! With a fabulous prize up for grabs, 25 teams turned out and we wish to offer a massive thank you to the guys at Club Choice Ireland for sponsoring the event.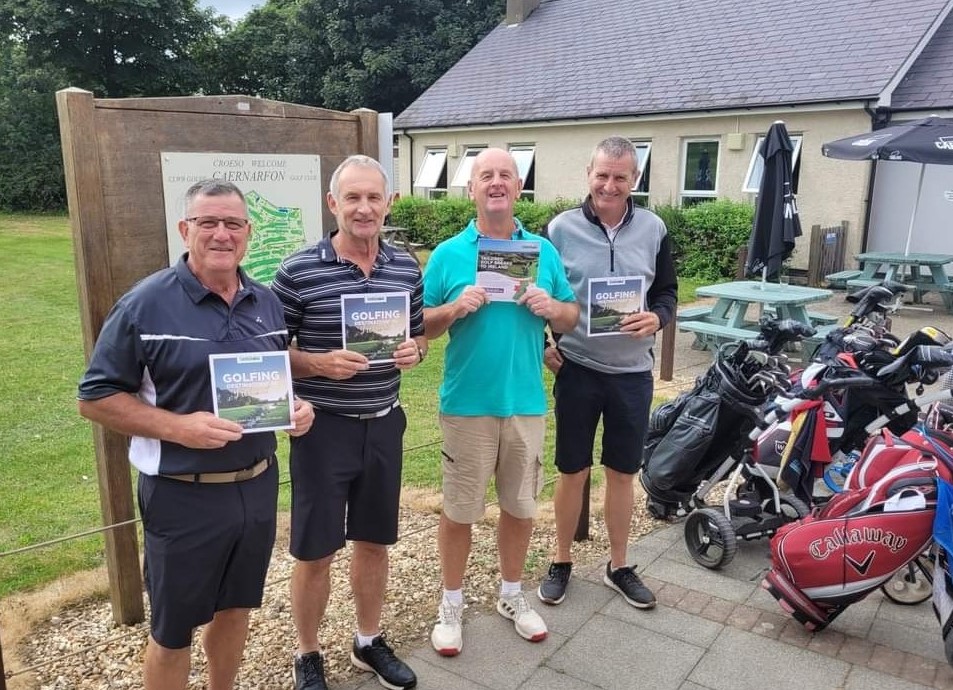 Yr enillwyr ar y dydd oedd y dynion lwcus yma, Terry Williams, Gwyn Peris-Jones, Arwel Jones a Rich Evans a fydd yn cael 'all expenses paid' trip golffio i Iwerddon!! Da iawn hogiau!

The winners on the day were these lucky fellers, Terry Williams, Gwyn Peris-Jones, Arwel Jones a Rich Evans who have won an 'all expenses paid' Golfing trip to Ireland! Well done boys!
18.08.2022
Ladies Strawberry Rumble
Ar 29ain o Orffennaf fe gynhaliwyd cystadleuaeth agored flynyddol y Merched – Y Strawberry Rumble. Fe ddoeth y merched yn ei niferoedd dros Ogledd Cymru, gyda 96 yn cystadlu mewn timau o 4. Criw o Borthmadog oedd yn fuddugol ar y diwrnod efo sgôr o 133 pwynt -12 pwynt o flaen tîm o Gaernarfon oedd yn ail. Clod mawr i'r merched am drefnu achlysur pen i gamp.
On the 29th of July it was time for the ever popular Ladies Strawberry Rumble event. The ladies came in large numbers from across North Wales and beyond, with 96 competing in teams of 4. A team from Porthmadog took the spoils with an impressive score of 133, with a team from Caernarfon taking second place 12 points behind the winners. Congratulations to the ladies on another successful and enjoyable event and evening!


Canlyniadau/Results
Pencampwriaeth y Clwb/Club Championship (Scratch Cup)
Dros benwythnos y 30ain o Orffennaf fe gynhaliwyd Pencampwriaeth Dynion y Clwb mewn cystadleuaeth Di-Handicap dros 36 twll. 12 chwaraewr doeth yn ôl ar y Sul i geisio cipio'r tlws, gyda Paul Lloyd Williams yn saethu'r sgôr ora dros ddau ddiwrnod – 145 (+7). Yn anffodus yn ôl rheolau cystadlaethau'r clwb, nid oedd Paul yn gymwys i ennill y tlws. Fe adawodd hyn i Osian Jones i gael ei enwi fel Pencampwr y Clwb am 2022 efo sgôr o 147 (+9). Llongyfarchiadau enfawr i Osian.

Over the weekend of 30th of July the Men's Club Championships (Scratch Cup) were held over 36 holes. 12 players came back on Sunday to try and claim the top prize, with Paul Lloyd Williams shooting the best two day gross score of 145 (+7). Unfortunately due to the Competition Rules of the club Paul was not eligible to win the top prize, leaving Osian Jones to claim the title of Club Champion of 2022 with a score of 147 (+9). Massive Congratulations Osian

Results
Paul Lloyd Williams – 73 – 72 – Total = 145 (Best score)
Osian Jones – 73 – 74 – Total = 147 (Overall Winner)
Jac Roscoe – 75 – 73 – Total = 148


Tîm 7 bob ochr – 7 a side Team
Yn anffodus, colli oedd hanes tim 7 bob ochr y dynion Nos Iau 28ain o Orffennaf wrth iddynt fynd i Nefyn i gystadlu yn rownd yr Wyth olaf. Gyda bob gem yn mynd heibio'r 17fed twll gall y gem wedi mynd unrhyw ffordd, ond Nefyn oedd yn fuddugol yn y diwedd. Da iawn hogiafd, a phob lwc i Nefyn yn y rownd nesaf.

SGOR/SCORE
NEFYN 4.5 – 2.5 CAERNARFON

Tim/Team
Sion Lloyd, Dylan Green, Osian Jones, Mark Wyn Jones, Sion Morgan, Ali Jones and Arfon Hughes
Unfortunately the men's 7 a side team lost their Quarter final as they travelled to Nefyn n Thursday 28th of July. With all matches reaching the 17th hole it was all to play for but it was Nefyn who came out triumphant. Good effort from the boys and all the best to Nefyn in the Semi final.

Diwrnod Capten y Merched – Ladies Captains Day 2022
Llongyfarchiadau enfawr i Gapten y Merched – Christine Sandham ar ddiwrnod llwyddiannus ar ddiwrnod y Capten 2022. Da iawn i Lywydd y clwb, Nan Bate, a enillodd y wobr gyntaf. Roedd pawb wedi mwynhau yn arw.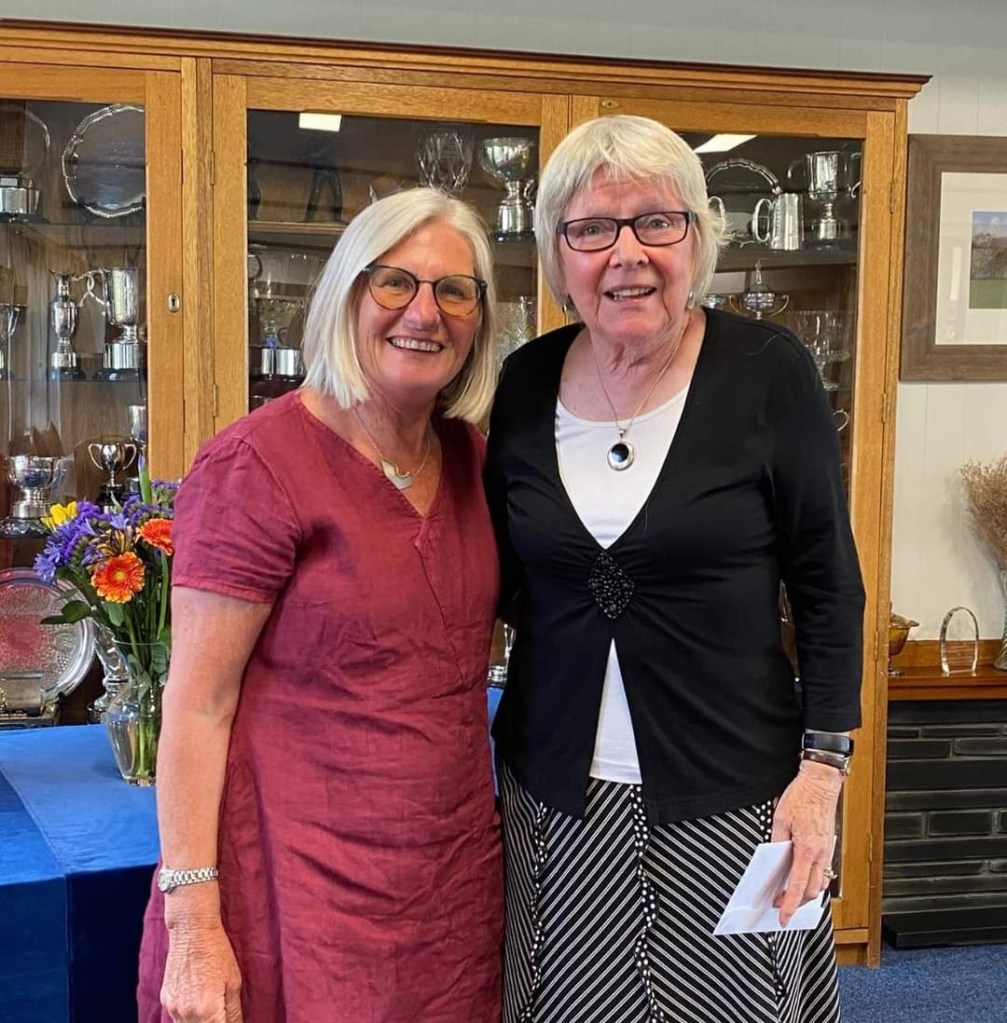 A massive congratulations to the Lady Captain – Christine Sandham, for a fabulous day for her Captains Day. The Club's President Nan Bate took the spoils and the day was enjoyed by all.
Da iawn Christine, ag i bawb ddaru gystadlu.
Diwrnod y Capten Dynion 2022 – Men's Captains Day 2022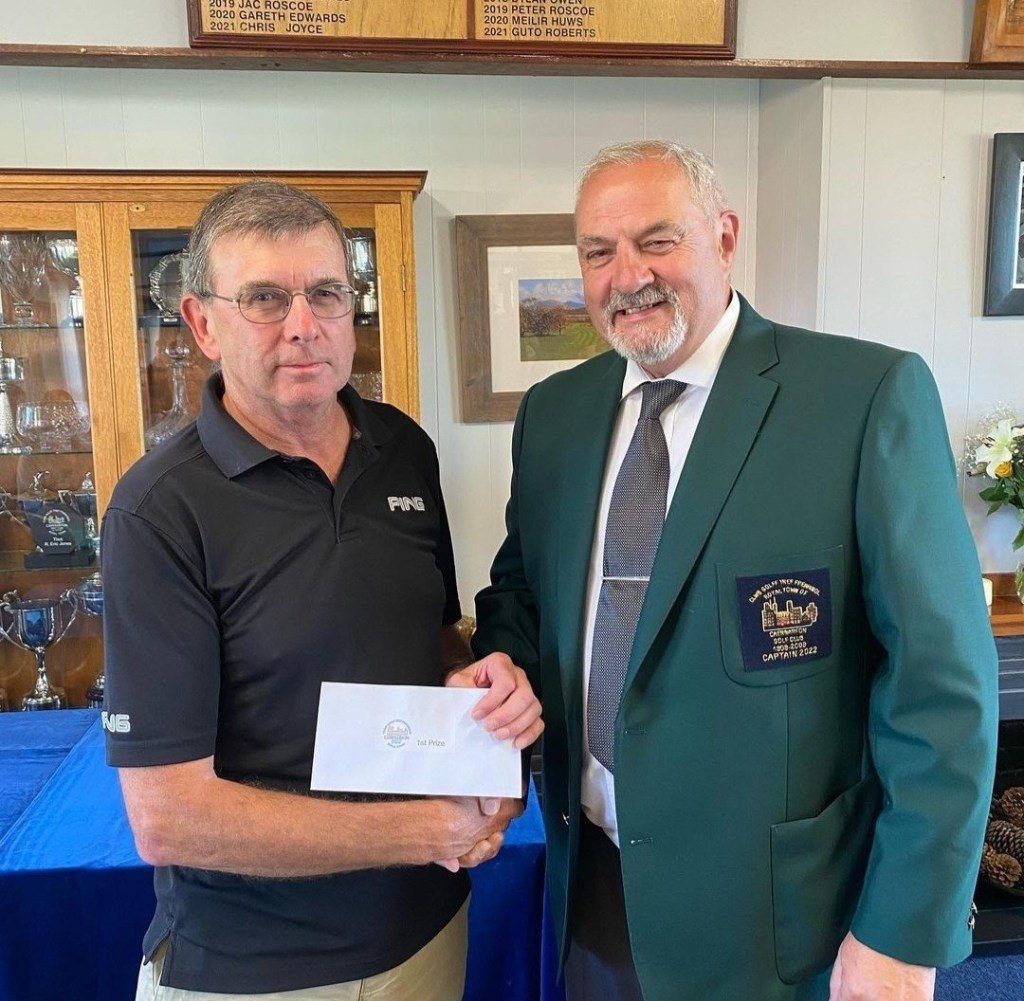 Llongyfarchiadau mawr i'r Capten John Penny Williams am ddiwrnod llwyddiannus iawn. Gyda bron i 150 wedi cystadlu yn yr haul, Bryn Jones oedd yn fuddugol eleni efo sgôr o 41 pwynt……ag hyn yn dilyn ei lwyddiant yn 2021. Yn ail oedd Barry Jones ag yn drydydd Hywel Jones. Llongyfarchiadau hefyd i Osian Jones a enillodd y sgôr gros ora o'r dydd yn mynd rownd mewn 70.

Huge congratulations to our men's Captain, John Penny Williams for a hugely successful day. With nearly a 150 players competing in the sun, Bryn Jones took the spoils with a score of 41 points……this following his success in the competition in 2021! Barry Jones came in second and Hywel Jones took third. Congratulations are also in order for Osian Jones for winning the best gross score of the day with a round of 70.

Yn ogystal a'r golf, fe lwyddodd y Capten i gasglu £900 i Alzheimer's Research UK.
The Captain also managed to raise £900 for Alzheimer's Research UK.

Da iawn i'r holl enillwyr!!
Specsavers Texas Scramble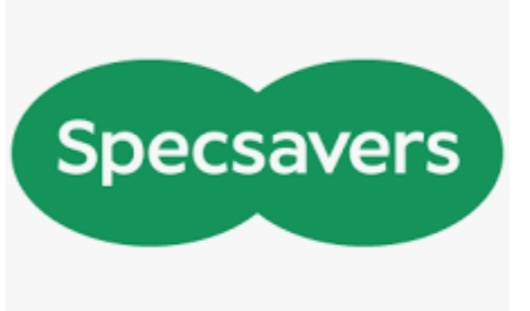 Diolch i Dyfan Jones a Specsavers am noddi'r Texas Scramble ar 18/6/22.
Many thanks to Dyfan Jones and Specsavers for sponsoring our Texas Scramble event on 18/6/22.
Llongyfarchiadau mawr i'r enillwyr/Congratulations to our winners:
Aled Llyr Jones, Aled Jones, Carwyn Roberts and Meilir Huws